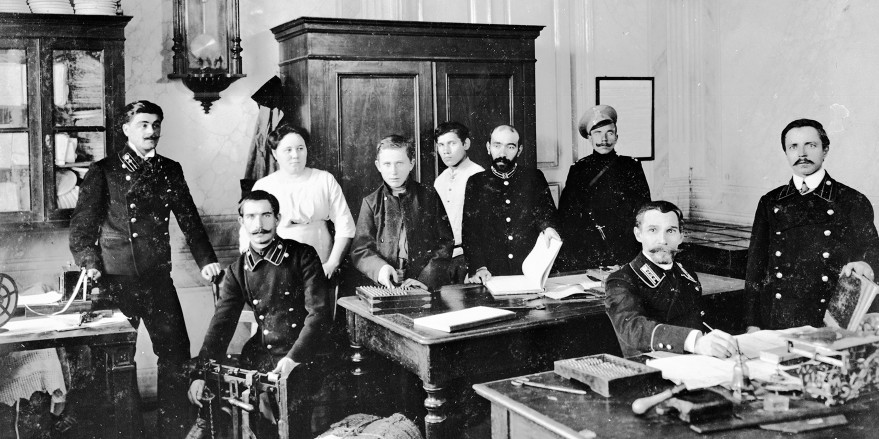 1918
Democratic Republic of Azerbaijan, first democratic state in East, was established on May 28.And from the first days of its establishment it did important work in the development of mail and communication.
Mail and Telegraph Ministry of the independent Azerbaijan was established. First communications ministers were Kh. Melikaslanov, A.Ashurov and J.Hajinski.
1919
On March 1, Azerbaijan Telegraph Agency was founded.
On March 15 exchange of money orders, registered letters, parcels and mail was implemented between Azerbaijan and Georgia.
Azerbaijan's first postage stamp on Azerbaijani soldier was issued on October 20.
1920
Soviet power was established in Azerbaijan on April 28 and Mail and Telegraph Commissariat was established.
1926
Radio broadcasting in Azerbaijan was aired regularly starting from November 6, first wired radio broadcasting was launched for the first time.
1953
Till 1953 communication in Azerbaijan was managed by permanent representative of the USSR Communications Ministry to Azerbaijan. In 1953, Azerbaijan SSR Communications Ministry was established.
1956
On February 14, Baku TV center was launched, TV broadcasting (AzTV-1) started functioning in Azerbaijan for the first time.
1959
The Council of Ministers of the Azerbaijan SSR adopted a decision to prepare highly qualified specialists in the field of communications at higher educational institutions of the Republic.
1964
On January 31 Baku TV Center started rebroadcasting of television programs from Moscow central TV.
1965
First graduation ceremony of engineers on speciality of telephone and telegraph communications held at Azerbaijan Polytechnic Institute.
1968
TV broadcasting in the country covered Shirvan, Goychay and Ganja cities.