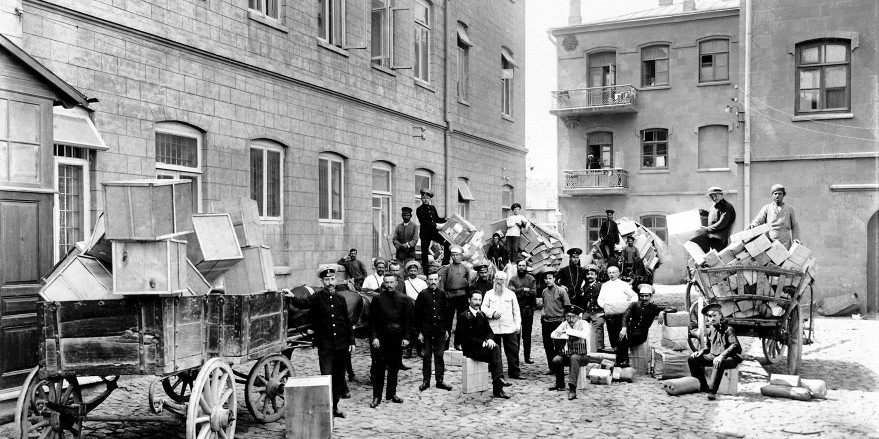 Communications has a very ancient history in Azerbaijan, mail was delivered via messengers since ancient times.
Communications in Azerbaijan was implemented by messengers, camel caravans and etc. Mail in Azerbaijan was officially founded in 1501 by head of Azerbaijan Safavid State Shah Ismayil Khatai. Creation of post in modern form dates back to the first half of XIX century.
1818
First post office was opened in Ganja.
1860
Baku main post office was established attached to Baku Province.
1864
On January 21, first telegraph line connecting Nakhchivan and Julfa on the border of Iran was commissioned.
1880
In December, first telephone line was built in Azerbaijan by "Caucasus and Mercury" steamship company. The line connected the office of "Caspian" oil company in Baku port with the society's main office located in Naberejnaya street. n
1881
In January, 1881 'Nobel Brothers' society applied to Baku governor, general-lieutenant Pozen in order to obtain permission for construction of telegraph line and such a permission was given on February 18. On November 23 of the same year, 6-km long first telephone line connecting the chairman and senior engineer's houses with the main office of Nobel Brothers' society was commissioned.
Officially, this line is considered the first telephone line in Azerbaijan, and the date coincides with the establishment of telephone communication.
1886
On May 26, an agreement was signed between Main Post and Telegraph Department and Moscow first degree merchant Qustav Ivanovich List for creation of first centralized switched telephone network in Baku and commissioning it for 20 years.
Centralized switched telephone network in Baku had 40 users.
1900
Transportation of mail via railway started between Baku and Derbend.
Centralized switched telephone network in Baku had 1146 users.
On December 29 'Nobel Brothers' society presented information, upon appeal of chief of Baku Mail Telegraph Office, on number of telephones, their addresses, distances from ATEs.