Briefing held on International Astronautical Congress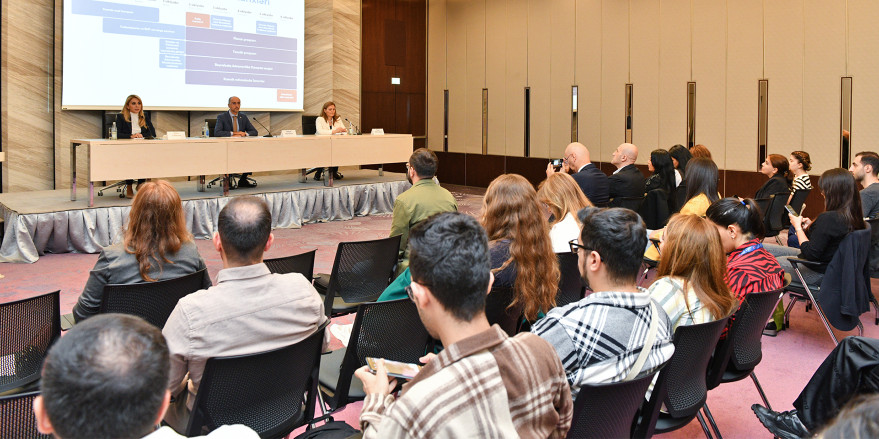 A briefing was held today for local media representatives in connection with the 74th International Astronautical Congress to be held in Baku in October this year.
Advisor to the Minister of Digital Development and Transport Rashad Bayramov, Project Manager of the International Astronautical Congress Rena Jafarova, and Head of the Public Relations and Communications Group of Azercosmos Fidan Beybudova informed about the goals and benefits of the event, registered space companies, and the participation of media representatives in the event.
It was noted that Azerbaijan, which is part of the global space community, will host the 74th International Astronautical Congress "Global Challenges and Opportunities: Give Space a Chance" on 2–6 October.
This year, a record number of scientific papers from 95 countries have been submitted to the scientific competition organized as part of this international event. On this indicator, the Baku Congress has surpassed all the congresses held so far. Azerbaijan has submitted 214 scientific papers to the competition, and the country is among top five countries that submitted the largest number of scientific papers – after the United States, Italy, India and China.
Construction of an exhibition pavilion for holding the event is ongoing on the territory of Heydar Aliyev Center and Baku Congress Center. As of today, 31 companies have been registered as sponsors of the Baku Congress. The exhibition pavilion will feature stands of 150 companies from 36 countries. In total, representatives of 88 countries have registered to participate in the congress.
The 74th Congress, which will be organized by Azercosmos in partnership with the International Astronautical Federation, will be attended by representatives of space agencies, public sector and private space companies, investors, local and international media organizations. The event will include conferences, 190 technical sessions and exhibitions.
At the end of the briefing, questions from media representatives were answered.
We would like to remind you that online registration for the congress is ongoing and you can register at this link.
Participation of media representatives in the event is free of charge.